Multi-platform Screen Security Solution
Product Introduction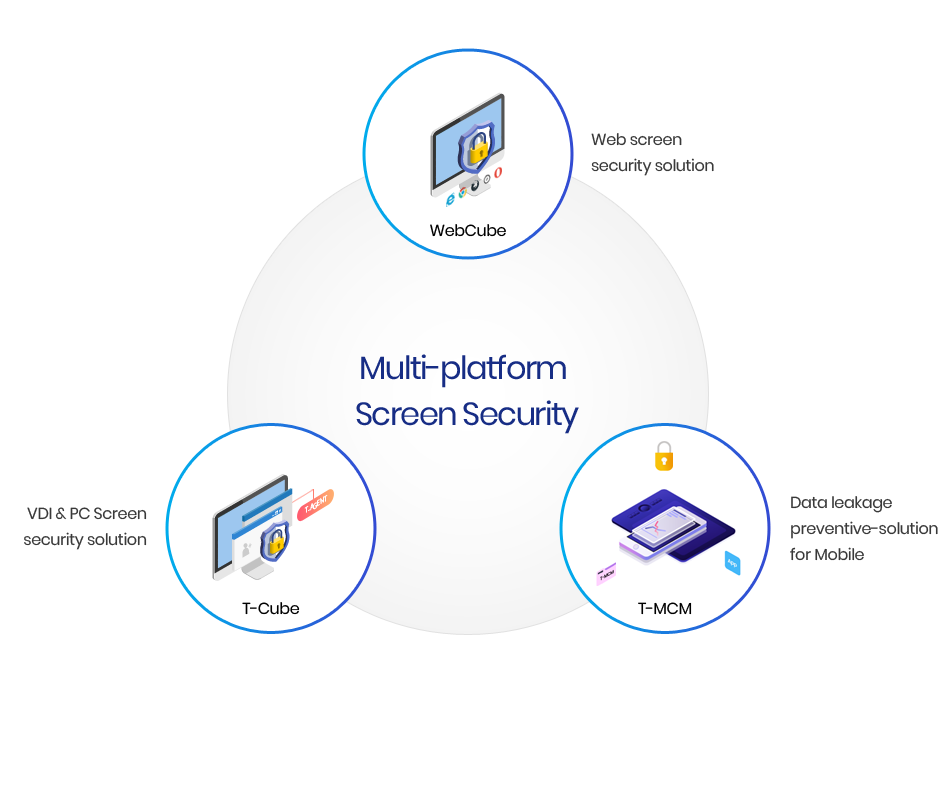 WebCube
WebCube is a "Web screen security solution" which protects enterprise confidential and content expressed in web browser from illegal leakage. WebCube secures the screen in Internet explore, Chrome, Firefox, Opera, Safari and etc.
T-Cube
T-Cube is "VDI & PC screen security solution" which prevents the confidential information and contents leakage, exposed through screen in VDI & PC. Linking not only with VMWare, Citrix, and MS Hyper-V which are reprehensive VDI solution but also with cloud service, T-Cube protects the data.
T-MCM
T-MCM is the "data leakage preventive-solution for mobile" only to prevent the illegal leakage of various types of data and contents provided by the mobile device. And it can easily interlock with other application because it is provided a module.
Function
WebCube
T-Cube
T-MCM
Web screen security solution
VDI & PC Program screen security solution
Data leakage preventive-solution for Mobile 

Anti-Screen Capture

Web Browser Menu Control

PC Remote Access Detection & Block

Temporary Folder Security

Anti-Screen Capture

PC Remote Access Detection & Block

Policy Setting

Module Security

Support for VDI link

Prevention of Screen Capture & Remote Access

Detection of connection

Network connection detection

Detection of platform change

Support for various devices