CCTV Media Export Solution
[MediaShell4 CCTV]
MediaShell4 CCTV
MediaShell4 CCTV is "CCTV media export solution" which prevents illegal distribution When CCTV media was exported, After saving encoded CCTV media in external hard drive, if policy is set; it is impossible to playback CCTV contends after license is terminated. Furthermore T-MediaDRM CCTV provides watermark, masking process for privacy protection and admin page based on web.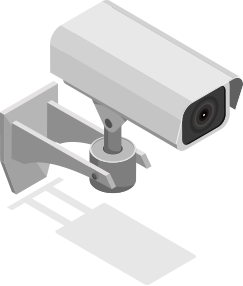 Needs
As the introduction of CCTV increases, the treat of personal information and privacy leaks is also increasing
CCTV play a decisive role in tracking criminals in incidents or accidents, CCTV installation is increasing especially in areas with a large population
Recently CCTV has been applied for more diverse purpose: Hospital operating rooms, pharmacy preparation rooms, schools, traffic management, social safety network management and anti-theft, disaster prevention, and customer pattern analysis of big retail stores
BUT!
Threat of Investigation errors during forgery〮falsification of CCTV video

A serious leak of personal information in the case of video leak

Risk of privacy violation of unprotected video
Function
Export Request

Select export media
Select export video

Encryption

Video Security

Encryption
Security policy setting
(License policy, watermark)

Export

Video Export

Video decoding and reading

Destroying video by policy

Video Information Management

Check export history
Statistic function
Export management register
CCTV Video Encryption

CCTV Video encryption

Use encryption module verified by NIS

CCTV Video Decryption

Decoding is provided only by the authorized institution

Unable to play decoding leaked video

Data leakage

Prevention of CCTV video's forgery falsification and replication

Restrict use when license expires

Check sources with screen watermark function

Export Security Policy Settings

Setting policies such license period, policy, number of times when exporting

Provides web-based video export management register (request, approval, and export)

Provides various export history inquiry functions and statistical functions