Mobile app data leakage preventive-solution
[T-MCM]
T-MCM
T-MCM is the "data leakage preventive-solution for mobile" only to prevent the illegal leakage of various types of data and contents provided by the mobile device.
And it can easily interlock with other application because it is provided a module.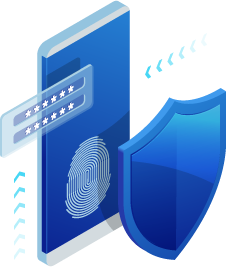 Needs
With increased mobile device usage working with mobile application or viewing paid content is increasing. This requires security measures for sensitive information that can be leaked to applications.
Increased needs of

mobile app security
Mobile Office

Internal document

Intranet

Call center customer Information

Mobile Finance

Customer personal information

Mobile subscription, contract, etc.

Payment information, transaction Information, etc.

Mobile Entertainment

Contents such as cartoons, photos, etc

Video content

Game

Mobile E-Learning

Educational e-books

Educational apps for internal and external use

Video lecture

Increased demand for security of Customer privacy, financial Information, paid content, and Corporate confidential information That could be leaked to mobile apps
Function

Prevention of Screen Capture

Anti-Screen Capture

Remote Sensing

Service manipulation prevented

Alteration & Deletion prevented

Network connection detection

Detection of Wi-Fi connection

Detection of data connection

Detection of platform change

Detection of rooting

Detection of Jailbreak

Detection of external devices and connection

Detection of external devices such HDMI, USB and etc.

Detection of Emulator and Miracast